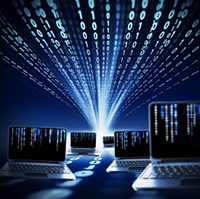 Enterprise Payment Solution
In today's environment, a single payment can take many forms and be presented for payment multiple times through different channels and even to different banks of first deposit. Banks that have the benefit of enterprise-wide detection are better equipped to protect themselves and safely extend a wide selection of payment products to their customers.
Same-Day, Real-Time, and Real-Time Inquiry
Dupe Detective provides full support for the industry's Faster Payments initiatives. The system accommodates both same-day and real-time payment processing. If an institution is not yet ready for true real-time transaction processing, it can still benefit from Dupe Detective's real-time inquiry capability. With real-time inquiry, Teller, ATM, Mobile, Remote Deposit, and other bank systems can inquire on the status of a payment at any point in time to make critical funds availability decisions.
Multi-Channel and Cross-Channel Detection
Dupe Detective® empowers your institution to detect duplicate payments from all sources, including image exchange, RDC, mobile deposit, ACH, wire, and traditional check systems. It provides protection against duplicates for all types of payments (incoming and outgoing, on-us and transit) regardless of how or where they originate.
Full Resolution Via Workflow Integration
Dupe Detective doesn't just monitor for duplicates. By integrating with the institution's existing payment systems, it actually fixes the problem by removing these bad items from the payment stream. Dupe Detective integrates with your payment systems, outgoing returns systems, and image archives, as needed, to deliver a seamless, automated, and complete solution.
Cross-Bank Inquiry
The Cross-Bank Inquiry® option enables participating institutions to inquire on each other's Dupe Detective systems in real-time or prior to presentment. As the presenting bank, this enables you to avoid any associated losses – either by placing a hold on the depositor's account for the amount of the item or refusing the deposit – instead of waiting for the return from the owning bank. By cooperating to achieve early identification of duplicates, financial institutions can avoid the associated losses and reduce the adjustment costs.
Built for SaaS/Cloud Computing Environments
Dupe Detective is designed and built to be implemented as either an in-house or service provider solution. We offer optional usage-based pricing to service providers for low entry costs and ease of scaling as your client base expands.
Learn more key advantages shared by all Detective Suite™ solutions.